Submitted by Siteguru on Wed, 08/10/2016 - 10:15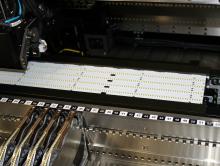 Global Manufactures 4' LED boards and bigger!
Here at Global, we have been in the LED business for more than 25+ years. We have seen a lot of new products pass through our factory that pushes the boundary with innovation, styling, and size. In particular, the ever growing LED industry has seen leaps and bounds in performance, lumens, and design. With these ever evolving products we must predict and foreshadow trends, which is why we are one of the few manufacturing companies in the United States who can offer four ft. LED boards and longer. Industry standard LED board sizes are only 22 inches and are less than half of what we can produce.
We manufacture industry-leading LED board sizes for our current clients. We have state of the art machinery that can automatically and efficiently dispense solder paste, place components (yours or ours), solder them, test, depanelize, and package these large sized boards and ship them from our location right here in Western North Carolina. These large boards have numerous benefits from a production standpoint:
Increased production, lower labor costs, and fewer boards
Stronger structural and design aspects – less opportunities for smaller, inter connected LED boards to disconnect and fail
Equal, consistent, and dependable light coverage and brightness throughout the whole assembly
Let go of these size limitations and let us create a brighter future for you today!