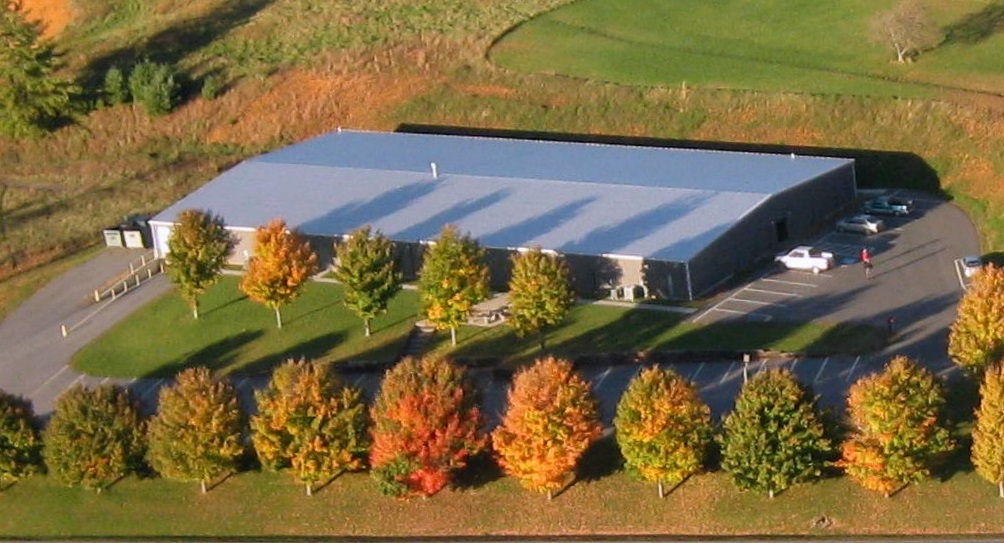 Global Manufacturing Services, Inc. is located in the West Jefferson, NC Industrial Park and operates out of a 20,000 sq. ft., purpose built facility for electronics manufacturing. The factory was built in 2004 and first occupied in eary 2005 and sits on a 4 acre plot amidst beautiful Sugar Maple trees under the Carolina Blue Sky at an altitude of 3,000 feet. The highly insulated and fully sprinklered building is a quality metal building and fully air conditioned. Our paved parking lot has parking spaces for 66 vehicles. We have ground level and dock height loading/unloading provisions at the rear entrance of the building.
Telephone and Internet Services: Global Manufacturing Services, Inc. is served by the award winning Skyline/Skybest Telephone Cooperative (http://carolinalink.org/index.shtml) from offices in West Jefferson, NC.  The cooperative was established in 1951 as part of the rural electrification program and has grown with the county and now serves about 30,000 customers in Ashe County and parts of several other Western North Carolina counties.  When digital switching became available in early 1970's Skybest began replacing their older crossbar equipment with Northern Telecom digital switches.  Soon after fiber optic cable was introduced in the 1980s, Skyline began burying cable throughout the county until now  nearly every home and business in the county has access to high speed internet service.  Global Manufacturing Services, Inc. has 20 gigabyte service from a switch located at the edge of the factory's lot.  Due to the reliability of fiber optic cable and the maintenance policies of the telephone company; up time is incredibly high. With such high level of service and performance this helps Global Manufacturing Services, Inc. to favorably compete with CMs located in more urban areas.
Electrical Service: Our company's electrical service is provided by Blue Ridge Electric Membership Corporation (BREMCO).  It is also a cooperative and was created a short time after World War II as part of the national rural electrification program.  It likewise has grown with the counties which it serves and has reinvested in new equipment and outside plant.  Global Manufacturing Services, Inc. has in addition to 220 Volt single phase service; we also have 1200 Amp, 440 Volts, three phase power coming into the premises from buried cable in the Ashe County Industrial Park, where we are located.  BREMCO has an incredible up time service record, due to line and equipment maintenance policies as well as being located in an area where weather related troubles from hurricanes and tornados are very, very rare.
Other County Facilities and Services: Even though the county is 400 square miles and has a population of only 28,000 people, the county has (1) an award winning county school system with all the school facilities relatively new with the exceptio of the county middle school, which is on the schedule to be replaced within a couple years,  (2) We have four convenient banking outlets, with one being a national bank, (3) three large well stocked super markets, including a Walmart Super Center, with all the things one can find in any urban area. (4) a very active little theater and associated artists,  (5) a very active well managed chamber of commerce, (6) a flourishing Christmas tree industry (7) several other manufacturers aside from Global Manufacturing Services, Inc., including United Chemicon Capacitor Corporation, General Electric making aircraft parts, AEV, a big employer who makes high class and much in demand Emergenct Vehicles, a book publisher and other associated businesses.    
As an aside; it is nice to (1) live and work in a beautiful part of North Caroilina amongst friendly and peaceful people where the educational level is relatively high and the work ethic is still very much a part of the local culture.  (2) the cost of living is not excessive, (3) traffic is of little consequence, especially in the cooler months of the year.  We are approximatly 35 minutes from Applachian State University a part of the University of North Carolina system.
And then finally, we are 15 minutes from Highway US 421, which is a four lane highway which connects to I-77 North/South and in another 30 minutes further East connects to I-40 East/West and you are good to go to North Carolina's beautiful beaches on the Atlantic in around 5 hours.  Or head West on I-40 and ultimate end up on the Pacific Shores of California all on 4 lane super highways.